The San Francisco 49ers reportedly have an offer of two second-round draft picks on the table for Jimmy Garoppolo. Is this the Indianapolis Colts' offer? ESPN's Bill Barnwell predicts it will be the destination of the 49ers' starting quarterback for the past four and a half seasons.
"I was tempted to say Nick Foles and reunite him with Frank Reich, but Garoppolo has proven to be a solid option when healthy in San Francisco," Barnwell wrote. "'When healthy' does a lot of work in that sentence, given Garoppolo's track record — he started just 46 regular season games in five seasons with the 49ers — and the Colts have lost two starters along the way. their offensive line with Eric Fisher and Mark Glowinski have both gone to free agency, but there are few teams that could offer Garoppolo a better chance at staying healthy than Indianapolis."
The Colts, with nearly $40 million in salary cap space, could easily absorb Garoppolo's contract. The team recently traded Carson Wentz to Washington Commanders and is in need of a starter. Of course, the team would flirt with the idea of ​​adding Atlanta Falcons quarterback Matt Ryan. We will know more on Monday.
Other teams potentially in need of the quarterback are the New Orleans Saints, Carolina Panthers, Houston Texans and Seattle Seahawks. The Texans, however, might feel comfortable moving forward with Davis Mills, and the Colts have an advantage over the other three.
"Trading Garoppolo to the Colts would allow the 49ers to trade Garoppolo to the other conference," Barnwell wrote. "They have the cap space to absorb Garoppolo's $27 million cap reached for 2022 without having to make any adjustments, although they may also choose to offer him an extension as part of this deal. can be infuriating at times, but he didn't wear down his welcome in San Francisco the way Wentz did in Indianapolis.And now, after the trade to the Commanders, the Colts have a second-round pick. to send the 49ers for their new starter.
One thing that works in the 49ers favor is that the new rookie quarterback class is not considered a strong group. As a result, teams might be willing to add someone like Garoppolo, who can serve as a quarterback until another passer with more potential becomes available.
H/t to Alek Arend of The Spun for the discovery
Nobody is perfect. Found an error in this article?
Report it.
Facebook Comments
More San Francisco 49ers news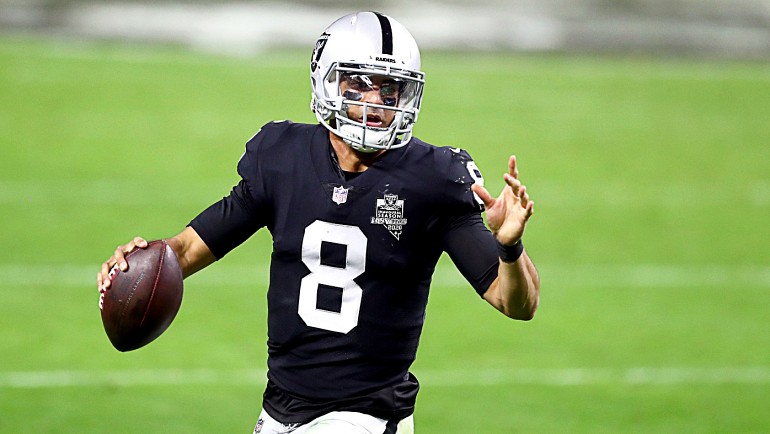 ESPN insider names Marcus Mariota as option for 49ers to partner Trey Lance
The San Francisco 49ers signed Nate Sudfeld to a one-year contract that includes $2 million fully guaranteed, a sign the team hopes the quarterback will be on the roster in 2022. Aside from the obvious next move — the Jimmy Garoppolo trade — the Niners may not be done to polish their quarterback position. Most believe San Francisco will consider adding a quarterback with starting experience to partner with last year's third pick, Trey Lance. Sudfeld spent most of last season on the practice squad and never started an NFL game. Free agency officially kicks off on Wednesday. However, teams can start negotiations on Monday. Jeremy from ESPN
Stock up for 49ers' Jimmy Garoppolo after Aaron Rodgers news
Aaron Rodgers is officially going to be a Green Bay Packer for the next four years. According to Ian Rapoport, Rodgers has agreed to a four-year, $200 million deal, with $153 million guaranteed. Rodgers was considered the number one trade option at quarterback. With Seahawks quarterback Russell Wilson likely staying in Seattle, San Francisco 49ers quarterback Jimmy Garoppolo moves to the number one option for the trade. Update: Adam Schefter reports the Seahawks are trading Wilson to the Denver Broncos. This article was written before the news broke. With Rodgers off the market, the value of a winning quarterback like Garoppolo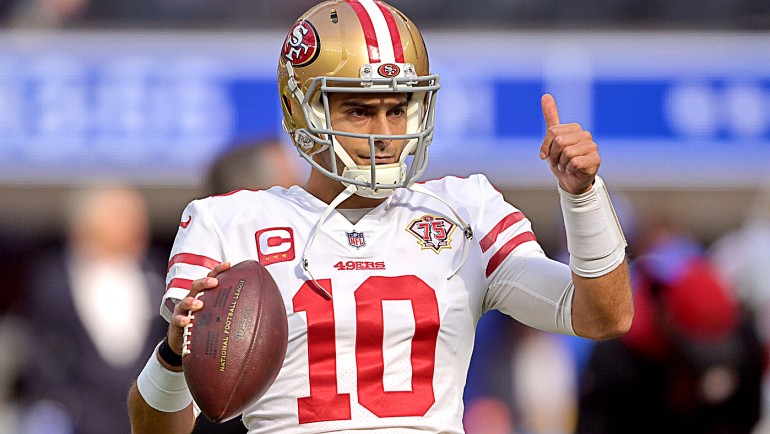 49ers' Jimmy Garoppolo undergoes successful shoulder surgery
The news that Jimmy Garoppolo would be undergoing shoulder surgery seemingly threw a wrench in the San Francisco 49ers quarterback's trade plans, until it didn't matter. With Aaron Rodgers staying with the Green Bay Packers and Seattle Seahawks trading Russell Wilson to the Denver Broncos, Garoppolo is now the most eligible signalman in the trade market. The good news is that everything would have gone well with the surgery, which took place on Tuesday, according to NFL Network's Mike Garafolo. Garoppolo is not expected to pitch for around 16 weeks as he recovers from the procedure. "The plan and the hope is that Garoppolo will pitch well before training camp," Garafolo wrote. "The only question is which team camp it will be from
49ers get good news on Jimmy Garoppolo trade deal: Aaron Rodgers stays with Packers
Aaron Rodgers isn't going anywhere. The future Hall of Fame quarterback remains with the Green Bay Packers, agreeing to a four-year deal worth up to $200 million, according to NFL Media's Ian Rapoport. As a result, Rodgers becomes the NFL's highest paid player of all time. The #Packers and MVP QB Aaron Rodgers have agreed terms to a 4-year, $200 million deal that makes him the highest-paid player in NFL history, sources say. He gets a whopping $153 million guaranteed and his cap goes down. A monstrous commitment from GB for the years to come. 💰