Nissan has unveiled not one but four future electric vehicle concepts, including a fully electric vehicle that could eventually replace the Navara.
The Japanese automaker unveiled the car quad as part of its Ambition 2030 vision outlining its plans to electrify its model line, which includes a switch to solid-state batteries.
While three of the concepts, including the ute, are clearly more futuristic, the Nissan Chill-Out crossover concept foreshadows a model that will soon become a production reality.
Learn more about the Nissan
Pictures reveal that the Chill-Out is the crossover that CarsGuide reported in October which is expected to be built at Nissan's UK plant from around 2025.
As noted, it could well replace the Leaf in the Nissan lineup as an entry-level EV when the hatchback comes to the end of its model life, sitting under the upcoming Ariya mid-size electric SUV.
Nissan did not provide many details on the Chill-Out, but did confirm that it will be built on the Renault-Nissan-Mitsubishi Alliance CMF-EV platform that underpins the Ariya and the Renault Megane E-Tech. This means that unlike the other three concepts, it will not use solid-state batteries and instead use lithium-ion batteries according to Ariya.
The Chill-Out will likely compete with the Mégane E-Tech as well as the Mazda MX-30, the new Kia Niro and the Peugeot e-2008.
The Chill-Out concept will soon become a production reality.
The remaining three concepts fall under the Nissan EV Technology Vision, which foreshadows the company's future beyond the new crossover and Ariya.
All three concepts – Max-Out, Surf-Out, and Hang-Out – are powered by solid-state battery technology built into a skateboard-like platform, meaning it can be used for different types of vehicles.
According to Nissan, the two-door Surf-Out ute concept is an all-terrain adventure vehicle using an advanced version of its upcoming "e-4orce" electric all-wheel drive system which is expected to offer better levels of comfort and better handling. .
Being a utility, it also offers extensive low and flat cargo space, and it will be able to power electrical devices. It features a rather adorable LED love heart on the tailgate of the ute.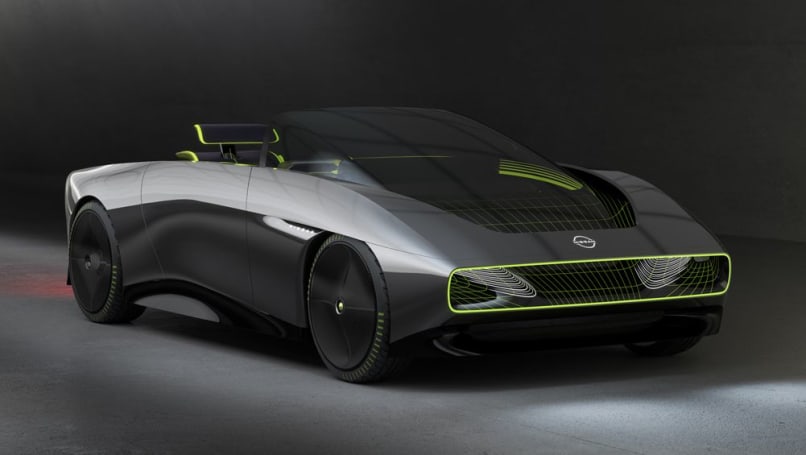 Nissan says the Max-Out uses solid-state batteries to improve the center of gravity.
The Max-Out is Nissan's vision of a future convertible sports car, combining retro elements with futuristic design cues. The Max-Out is ultralight, has a very low center of gravity and also uses the e-4orce system.
Nissan says the seats flatten into the ground for more interior space when needed. The two-seater will have low body roll and emphasize dynamic handling.
Finally, the Hang-Out concept is a cross between a hatch, an MPV, and a small SUV, with chunky styling, smooth lines, and cool LED lighting.
It has a flat, low floor extending back and forth for a flexible interior. Nissan says it's aiming for a lounge vibe for the Hang-Out, with theater-like seats, and less vibration and jarring in an effort to reduce motion sickness. It also uses e-4orce and an advanced version of the ProPilot driver assistance suite.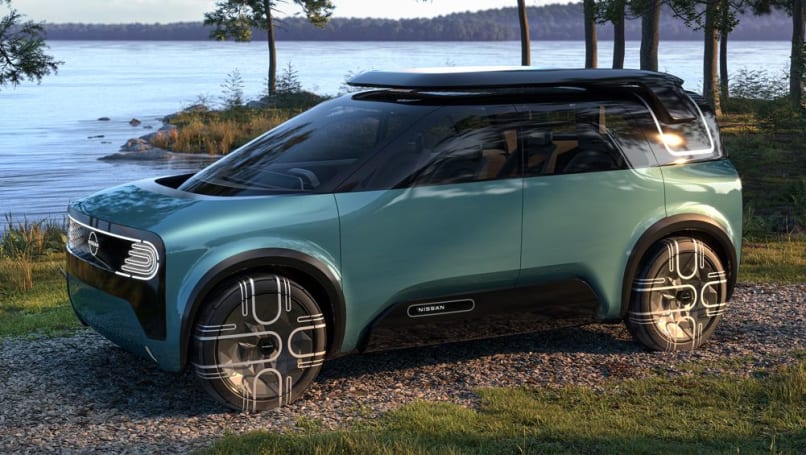 The boxy Hang-Out concept has an open and flexible cabin.
As part of the Ambition 2030 plan, Nissan is investing $ 24.6 billion over the next five years and aims to be carbon neutral by 2050.
Nissan will launch 23 new electrified models by 2030, including 15 new battery-electric vehicles, and an electrification mix of more than 50% worldwide for the Nissan and Infiniti brands.
There will be 20 new hybrid EV and e-Power models over the next five years and the global mix will change. In Europe, electrification will account for over 75 percent of sales, while Japan will account for 55 percent and China and the United States 40 percent each.
Nissan also plans to reduce the cost of its batteries by 65% ​​by 2028 by advancing lithium-ion battery technology and introducing cobalt-free technology.
Beyond that, Nissan will launch fully solid-state batteries by 2028, with a pilot program launched in its hometown of Yokohama by 2024.
Nissan says solid-state batteries will be able to expand its electric vehicle offerings to different segments and cut charging times by a third. The company plans to achieve cost parity between electric and gasoline vehicles by eventually reducing the cost of battery packs to $ 65 per kWh using solid-state batteries.
It will establish a global battery supply system and increase battery production by 2026, and expand its ProPilot advanced driver safety suite by the same year by further developing autonomous technology. There are also plans to expand its battery reuse and recycling programs to other markets such as Japan, China and the United States.