Syracuse Abroad is thrilled to announce a new addition to the Santiago Center program. Reintroducing the Intensive Spanish Immersion Program, students will now have the option of starting their semester in Argentina, as part of a prerequisite course before arriving in Chile. This new immersion will prepare students for the Spanish language program in Santiago, while introducing them to modern culture and the iconic city of Buenos Aires.
Pre-Semester Immersion Program in Buenos Aires
Before arriving in Santiago, students enrolled in the immersion program will spend three weeks perfecting their Spanish skills in Buenos Aires. Students will take a second-level Spanish course or a course on contemporary Argentine culture. Both courses will help students connect with the vibrant Porteño culture, exploring topics ranging from tango, fútbol and fine arts to contemporary issues of LGBTQIA+ rights and immigration, in a city known for being a crucible.
The immersion program in Buenos Aires is mandatory for students who have taken less than two years (four semesters) of college-level Spanish for additional language courses before studying in Chile. This program is recommended for students who have already completed two years of Spanish language studies and are looking for an alternative pre-semester immersion experience in Argentina. Students participating in this immersion will have a unique opportunity to compare and contrast life in two Southern Cone countries: one on the Pacific coast and the other on the Atlantic.
After the immersion part of the semester, as well as the Signature seminar, the students continue in Chile. Strategically located with easy access to the Pacific Coast and the Andes Mountains, Santiago offers a diverse and vibrant cultural experience. In the near surroundings you will find ski slopes, mountain hiking trails, beaches and small rural towns that provide a fascinating contrast to the bustling capital. While studying in Santiago, students will venture to Patagonia, the San Pedro Atacama Desert, and many other sites on school field trips. In Buenos Aires and Santiago, students will spend the semester with host families providing an enhanced cultural experience.
While in Chile, students will take classes at its two top universities, Universidad de Chile and Pontificia Universidad Catolica. For the fourth consecutive year, Times Higher Education has ranked Pontificia Universidad Catolica de Chile as the best university in Latin America. Since 2009, Syracuse University and PUC have maintained a two-way exchange and cultivated a close working relationship. Students studying in Chile take the majority of their courses at PUC and are based at one of its Santiago campuses.
Location Scholarship for Central Santiago Students
Syracuse Abroad is also pleased to announce a funding opportunity for Santiago students. All the students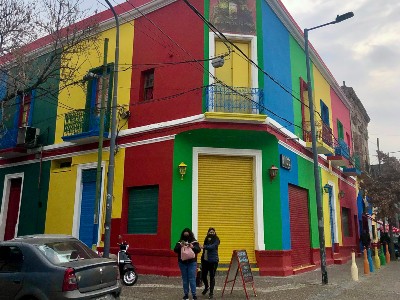 participant in the Spring 2023 Santiago Center program will automatically receive a location grant of $2,000. Funds will be applied to student program costs for the semester. This grant is in addition to existing merit- and need-based funding that is available for all center programs.
Students can apply now for the Spring 2023 programs – the application deadline is October 1 and applications are reviewed on a rolling basis. Students are encouraged to apply as soon as possible, as some programs have limited space. For specific deadlines, students should refer to each program's individual application page.
For more information, students can schedule an appointment with an international program advisor or schedule a general counseling appointment to explore several options. Syracuse Abroad will continue to offer virtual counseling appointments as well as in-person sessions at the start of the academic year.